PhysioTwo Package
A large website ideal for therapists looking to significantly increase their patient referrals.

The PhysioTwo package is ideal for a therapist looking to increase their caseload, or an existing therapy clinic looking to expand. The PhysioTwo package includes a large effective website designed to significantly increase patient referrals.
What's included?
The PhysioTwo package includes a large 25 page, responsive website, complete with domain name, logo design, local map, interactive form and blog.
With features such as a form, your site will be designed to encourage visitors to contact you for an appointment. Your site will be coded to allow it to rank highly in Google and generate lots of new visitors.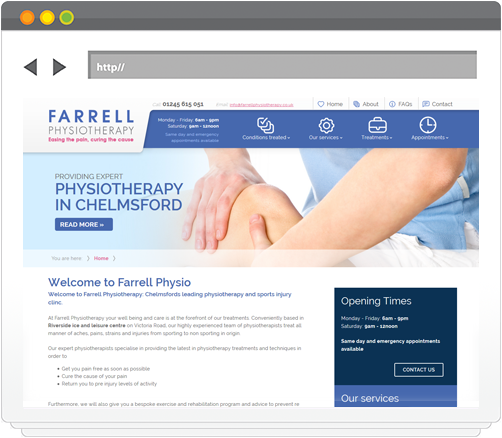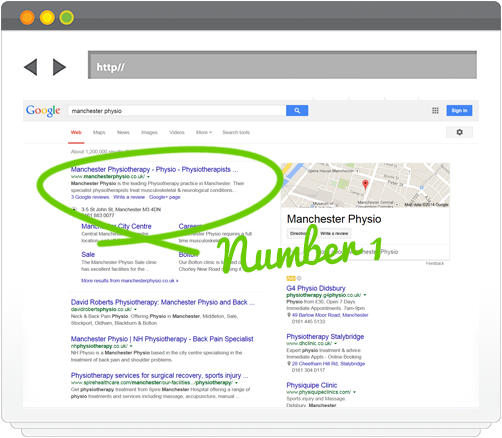 The PhysioTwo package comes with 2 hours of search engine optimisation every month.
This means your website will achieve a high Google ranking for many relevant search results. More people will visit your site and book appointments.
With a Physio123 website package you will not need to worry about your website once it is online. We make having a website as easy for you as possible, allowing you to relax in the knowledge that your practice's website is in good hands.
We make it easy
With the PhysioTwo package we provide a complete service looking after the creation, marketing and management of your clinic's website. Our PhysioTwo package allows you to be safe in the knowledge your website is being marketed and managed effectively. Put simply, your clinic's website could not be in better hands.
How it works
You write the content, we create your website and market your site so it ranks highly in all major search engines. Before long, people in your location are finding your website and calling your practice. Physio123 don't stop there. We continue to
market
and
manage
your website allowing you to concentrate on running your practice.
Order this package