Reflexology
About Reflexology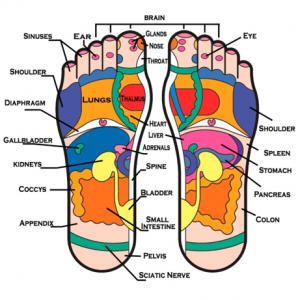 Reflexology uses pressure on the reflex points of the feet which may aid in relieving symptoms and balancing body systems. Reflexology has been found to relieve tension and pain, reduce stress and increase body functions and well being.
Both feet are said to represent the body as a whole, the reflex points relate to all structures and functions of the body. The principles of reflexology are that the feet mirror the body. The right foot represents the right side of the body and the left foot represents the left side of the body.
Each foot has 7000-7200 nerve endings or reflex points which when pressure is applied to the corresponding structures and functions they may be stimulated and in turn influenced.
What to expect
If you are new to Reflexology you may be unsure of what to expect.
At the first session a full medical history will be taken including medication taken, recent operations and illnesses. This will enable Sara to build a picture of your current state of health.
During the treatment you will be required to wear loose fitting, comfortable clothes to ensure you can relax.
The treatment will last 45 minutes, during this time firm but comfortable pressure will be applied to both feet stimulating reflex points.
Following the treatment there will be time to relax and recover.
The benefits of Reflexology
Reflexology has been shown to:
Aid relaxation & invigoration
Relieve stress & tension
Increase range of motion & flexibility
Encourage the removal of toxins
Reduce pain
Help prevent injuries
Improve circulation & blood supply
Reduce congestion & stagnation
Improve sleep patterns
Promote the flow of nerve impulses
Improve systemic function
Encourage equilibrium within the body
Treatment fee
1 hour | £41
The first session will include a consultation followed by treatment
Please allow time after treatment to relax and recover