What is massage therapy?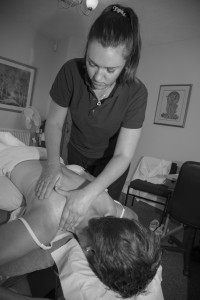 Sports Massage is the manipulation of muscle and connective tissue. It is used to improve the function of muscles and the healing and prevention of injuries. Sports massage consists of deep tissue work to alleviate tension and stress within muscles easing movement and posture while reducing pain and discomfort. It is effective in alleviating muscle tension and restoring natural balance to the body.
Receiving sports massage regularly can help prevent this latent build up of tension within the body. If undetected these muscle imbalances may at best limit movement and strength but at worst, if undiagnosed, can become serious enough to cause chronic pain to muscles and joints in the surrounding areas. Sports massage can detect these variations in the soft tissues before further complications develop, helping to maintain the body's healthy physical state.
Sports massage can:
Increase flexibility and relaxation

Decrease muscle tension, stiffness, soreness and pain

Remove toxins and lactic acid after exertion

Maintain optimum muscle health and performance

Prevent injuries

Boost performance